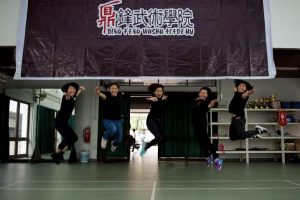 Cultivate a healthy body and mind starts here.
Chinese martial arts is one of the best self-defence and fitness program for all ages. Unlike other forms of exercises which may focus only on certain parts of the body, Chinese martial arts trains the entire body. It promotes agility, balance and health.
The mind will also benefit. It will be heightened with awareness, discipline and concentration.
Our goal in Ding Feng Wushu Academy is to provide the best Wushu training, in accordance with internationally recognised stardards, to anyone interested in the discipline.
Ding Feng Wushu Academy was established in 2008. We run our classes at Penang Ladies Chin Woo Athletic Association, 39 Anson Road, 10400 Penang, Malaysia.
We have a highly qualified team of dedicated coaches. They are masters in their own right. Some are top martial artists at national and international levels.
Our trainings are very systematic. We assume no martial arts experience. We invite you to come and try.
Many students joined us. Some are as young as 5 years old. They are taught Wushu in accordance with syllabus set by the International Wushu Federation. These students will eventually represent their schools in competitions. Some of them became so good that they progressed to represent Penang and Malaysia in national and international Wushu competitions. We have many such Wushu athletes in our academy.
No one is too old to learn Wushu. Come and join our adults' classes.  You will have fun learning Zhou Jia Quan, a form of Traditional Chinese martial arts. This is one of the best way to keep fit and maintain youthfulness.
Martial arts is not about fighting. It is about building character.
Come and join us.